ST. PETE LIGHTED CONCRETE BOLLARDS
TF6050 / TF6051
BOLLARDS Made of all shapes and sizes offer dependable solutions for security, traffic flow and numerous
other applications – while enhancing the aesthetic appeal of any project. Whether spherical, cylindrical or
mimicking the contour of natural stone, our bollards are constructed of steel rebar encased in concrete to
provide superior strength and protection. Choose from a near-endless array of colors, textures and finishes.
Lighted bollard. Deeper anchoring.
See TF6051 for similar look. Light bulb included.
Core size: 8" dia x 18"H
Mounting Options: C

MATERIAL: Concrete
SHAPE: Circle
REINFORCEMENT: Yes

Lighted Bollard. Recycled Glass available.
Light Bulb Included.
See TF6050 for similar look. Light bulb included.

Mounting Options: A or B

TF6051

TF6050
---

Order Online, by Phone, or by E-Mail

~ Add items to your online shopping cart ~
Click the Model No. of the item you wish to purchase.

---
PRICING FOR STANDARD FINISH BOLLARDS
| | | | |
| --- | --- | --- | --- |
| Model No. | Size | Weight | Price |
| | 18" dia x 58" | 850 lbs | $2,078.50 |
| | 18" dia x 36" | 730 lbs | $2,026.20 |
Available Colors


---
TF6050 DRAWING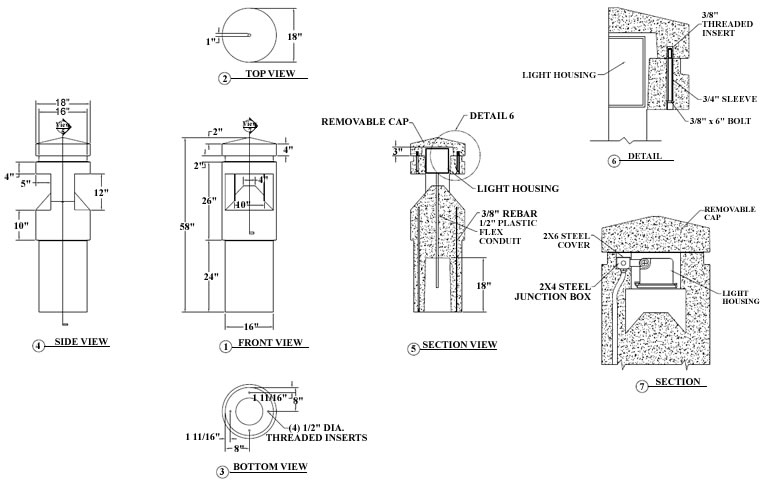 ---
TF6051 DRAWING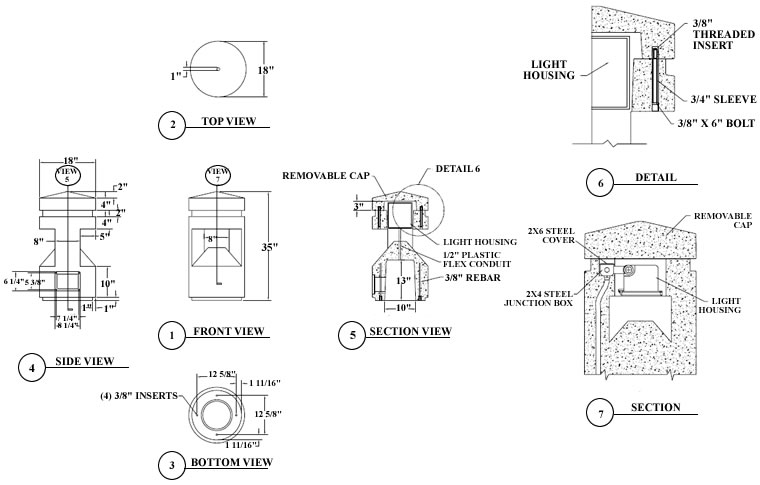 ---
Bollard Installation

---
SPECIFICATIONS
1.1 SUMMARY
A. Section includes: Furnish Precast Concrete indicated on drawings or specified
herein.
1.2 REFERENCES
A. American Society for Testing & Material
1. ASTM C33 2. ASTM C150 3. ASTM C31
1.5 SUBMITTALS
A. Submit product data, shop drawings and samples.
1. Product Data: Manufacturer's specifications and technical data edited specifically for
proposed system, including the following specific information:
a. Detailed specification of construction fabrication.
b. Manufacturer's installation instructions
c. Maintenance literature
d. Product warranty
2. Shop Drawings: Indicate pertinent dimensions, general construction, component
connections anchoring methods, hardware and installation procedures.
3. Samples as requested by Architect.
1.6 QUALITY ASSURANCE
A. Qualifications of Manufacturer: Manufacturer to be prequalified by specifier prior to bidding.
Failure to comply will result in disqualification of bid. Manufacturer to have at least five years
experience in the manufacturer of precast concrete bollards field proven for at least
five years.
1.10 WARRANTY
Manufacturer shall submit a written warranty for precast products for the period of two years
upon acceptance of products.
2.2 MATERIALS
A. Portland Cement: ASTM C150 specifications for Portland Cement.
B. Aggregates: All aggregates to meet ASTM C33 specifications, to be cleaned of foreign
matter and properly graded to size.
C. Coloring: Pigments used shall be inorganic, resistant to alkalinity and used as per
manufacturers recommendations.
---
Lighted Round Concrete Bollards, Round Bollards, Concrete Bollards, Concrete Bollard, Bollards, Site Furnishings, Protective
Guards, Safety Bollards from your source for material handling equipment.